Values & Ethos
At Robin Hood our school culture and ethos is: Inspiring individuals aged 3-11 to learn well and thrive.
Our school values are at the core of everything we do:
Ready, Resilient and Responsible
They underpin our teaching and learning, and provide an inclusive environment which prepares our pupils as confident and happy citizens. All children are encouraged to succeed and be the best they can be, they take pride in developing their knowledge and skills, talents and a love of learning.
We pride ourselves in being a Happy Centred School, thanks to Laughology.
The Happy-Centred School (HCS) programme enhances the personal, social, emotional and economic wellbeing and happiness of our whole school community, and support children's mental health.
There are five core happiness themes:
Achievement & success
Support
Coping Skills
Self-confidence
Positive Relationships
The children use the knowledge, skills and language learnt within the HCS programme throughout our curriculum offer and in all aspects of Robin Hood life. As a result the lived experience at Robin Hood is extremely positive.
---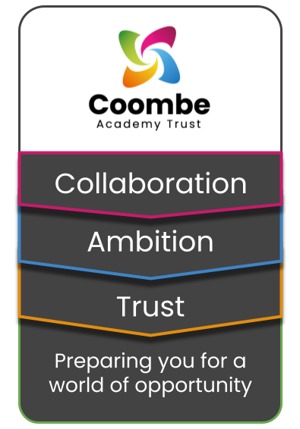 Coombe Academy Trust is committed to ensuring outstanding leadership at all levels underpinned by the values of Collaboration - Ambition - Trust.
Bespoke professional development ensures lifelong learning for all staff in an environment where success at all levels is recognised and celebrated.
In turn this provides a high standard of inclusive education for our children and young people, one in which their lives are enriched with meaningful opportunities and achieves the best possible wellbeing and academic outcomes.
In short, this ensures children and young people leave Coombe Academy Trust well prepared for their next stage in life and education, and prepares them for a world of opportunity.